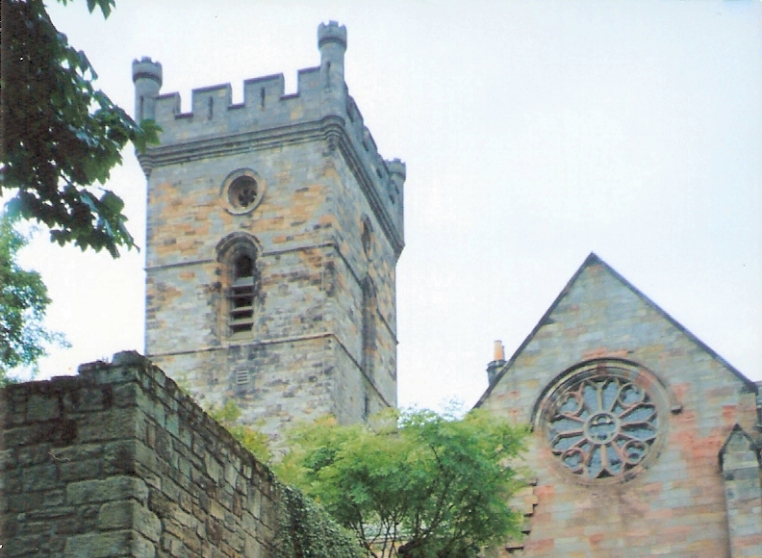 July 1 – Day of the Midges
Culross Abbey
I eye the hill that leads up to the abbey skeptically. My feet are mutinous and refuse to budge. It must be plain on my face, because Robin asks "Should we just drive up?" Yes, yes, yes. The engine of the car whines only a little more softly than I would have if I'd been hiking up the steep incline.
Founded by Earl Malcolm of Fife in 1217-1218, Culross Abbey was a small Cistercian monastery. It barely survived until the Reformation, when in 1633 the east choir of the abbey church became the parish church while the west choir and adjoining buildings fell into decay. Little more than their foundations survive.
There is a magnificent view of the Forth through the shrubbery and trees surrounding the abbey. Culross was known for its gardens as well as its scriptorium which produced illuminated manuscripts and fine binding. It is also said that there had been a grammar school within the abbey, where the youth of the burgh and surrounding lands were 'instructit in gramar and tranit in vertew'.
Since 1624 the north transept has housed the tomb of Sir George Bruce with effigies of him, his wife and eight children. This is a most solemn and reverent place and we wince when our cameras make their mechanical whirrings as we take pictures of these impressive carvings.
It doesn't seem possible that we've spent an hour here, but we have so down the hill and around the corner we drive to Martin and Judy's house, which is also a bed and breakfast where Robin has stayed in the past.
Also on Mostly Medieval:
Exploring the Middle Ages

Research articles about life in the Middle Ages. Ballads, religion, heraldry, medicine and more.
In the Exploring the Middle Ages section.

Downloads

Backgrounds, letters, avatars and more for websites, blogs, and newsletters. Desktop wallpapers for personal use.
In the Downloads section.

The Merkat Cross

Books for all ages, movies, costumes for Halloween and Ren Faire, music and more – all related to the Middle Ages.
In the The Merkat Cross section.