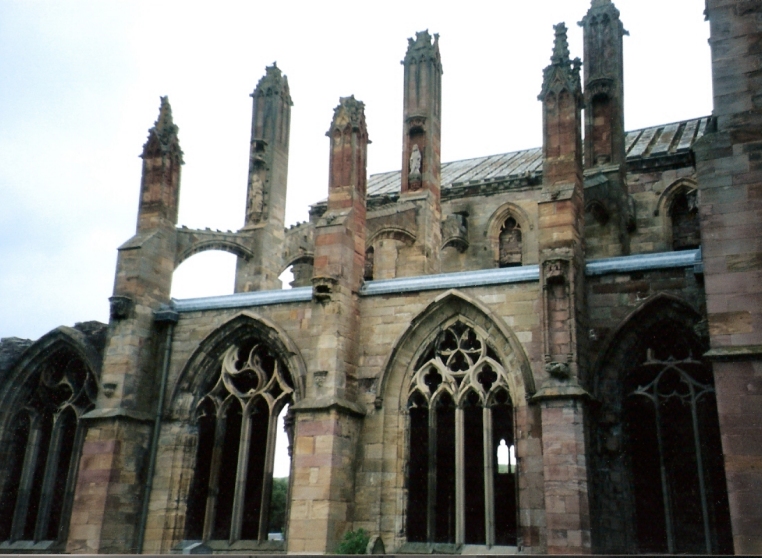 Melrose Abbey
Borders, Scotland
Of the nine Cistercian houses in Scotland, Melrose was the first. It was founded in 1136 by David I as an invitation to the brethren at Rievaulx Abbey in Yorkshire to establish a settlement in Scotland. Thirteen monks arrived from Rievaulx, Abbot Richard and twelve others, signifying Christ and his disciples, and began the building of their new abbey. By 1146 the church was sufficiently complete to be dedicated to the Virgin Mary.
As with the other border abbeys, the first two hundred years were those of peace and productivity; an era which ended abruptly in 1296 as a new, unwelcome, era was ushered in from the south. For the next two hundred and fifty years, beginning with the war of independence and ending with the Rough Wooing, Melrose suffered the burden of border warfare. In 1322 Melrose was sacked by Edward II's army and King Robert the Bruce assisted in the rebuilding of the abbey. A month before he died in 1329, Bruce instructed that his heart be buried within the abbey.
In 1996 during archaeological excavations near the Chapter House a lead canister was discovered which, after careful examination, was found to contain a smaller medieval casket containing an embalmed heart, believed to be that of Robert the Bruce. The casket has since been reburied in the grounds and is marked by a small stone bearing an engraved heart crossed by the saltire of the national flag and the inscription, "A noble hart may have nane ease, gif freedom failye" – A noble heart may have no ease, if freedom fails.
View more images of Melrose Abbey at Travels in the UK: Melrose Abbey Photo Gallery.
Next page: Rievaulx Abbey
Also on Mostly Medieval:
Downloads

Backgrounds, letters, avatars and more for websites, blogs, and newsletters. Desktop wallpapers for personal use.
In the Downloads section.

Travels in the UK

Travelogue of a journey through northern England and Southern Scotland. Visits to castles, cathedrals, ruins and more.
In the Travels in the UK section.

The Merkat Cross

Books for all ages, movies, costumes for Halloween and Ren Faire, music and more – all related to the Middle Ages.
In the The Merkat Cross section.