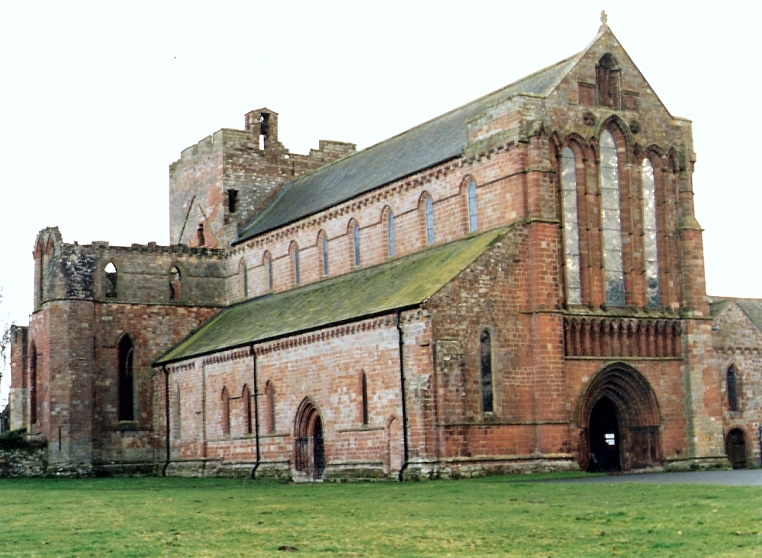 Lanercost Priory
Cumbria, England
Consecrated in 1169 and constructed of stonework from nearby Hadrian's Wall, this monastery which housed monks of the Augustinian order was completed around 1200. Lanercost is a ruin of vast proportions, but there were only about a dozen Canons who lived here.
King Edward I visited on several occasions, remaining over the winter of 1306 with a company so large that they depleted the priory's resources. The priory was attacked by the Scots four times in the late 13th and early 14th centuries. As a result of these attacks much of the priory's land was sold to pay for repairs. One of Lanercost's most lasting and notable features is the Lanercost Chronicles, written by the resident Canons, which was translated by Sir Herbert Maxwell and is frequently quoted in historical analyses of the Anglo-Scottish Wars.
The Canons were ejected during the dissolution of the monasteries in 1536 and the property was confiscated by the Crown, then purchased by Sir Thomas Dacre. Dacre turned Lanercost into a private house. When this branch of the Dacre family died out and Lanercost reverted to the Crown.
The church that remains today was created by partitioning off a section of the previous nave.
View more images of Lanercost Priory at Travels in the UK: Lanercost Priory Photo Gallery.
Next page: Melrose Abbey
Also on Mostly Medieval:
Downloads

Backgrounds, letters, avatars and more for websites, blogs, and newsletters. Desktop wallpapers for personal use.
In the Downloads section.

Travels in the UK

Travelogue of a journey through northern England and Southern Scotland. Visits to castles, cathedrals, ruins and more.
In the Travels in the UK section.

The Merkat Cross

Books for all ages, movies, costumes for Halloween and Ren Faire, music and more – all related to the Middle Ages.
In the The Merkat Cross section.