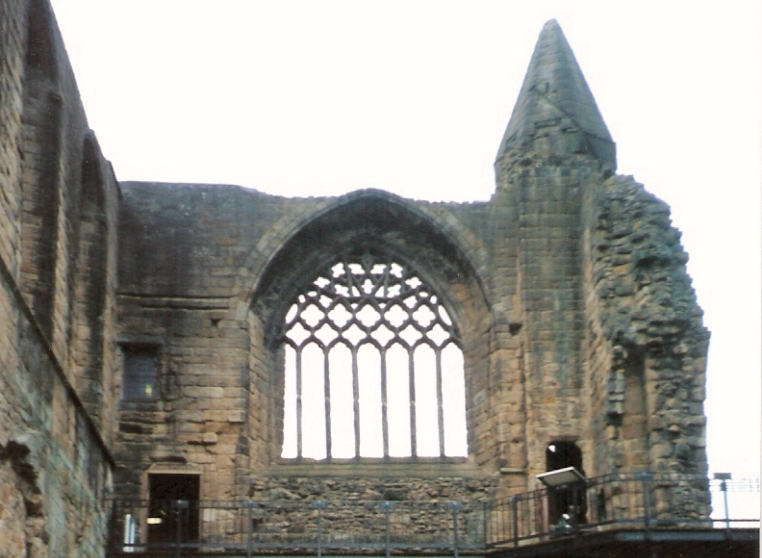 Dunfermline Abbey
Fife, Scotland
When Queen Margaret, later St. Margaret, married Malcolm II around 1070, Dunfermline was already a place of royal residence. Margaret founded a Benedictine priory at Dunfermline, and her third son, David I, raised it to Abbey status in 1128. The abbey was the chosen burial place of eight kings, four queens, five princes and two princesses. In addition, William Wallace's mother, Margaret, is buried here. In the 16th century the abbey guest house was converted into a royal palace. The last monarch to be born in Scotland, Charles I, was born there.
Beneath the pulpit in the church lies the tomb of Robert the Bruce. King Robert was buried at Dunfermline in 1320, but over the centuries the exact location of his grave became obscure. In 1818 when the ground was being cleared in preparation for the building of the new Abbey church, workmen came across a vault. When opened, the vault was found to be built of polished masonry. Within the vault was an oak coffin covered with two sheets of lead. Inside the coffin lay a shroud of gold cloth.
After an examination the tomb was closed again until the following year when an official inspection was made. It was found that the breastbone of the body had been severed in order that the heart might be removed in compliance with Bruce's expressed wish that it should be taken to the Holy Land. (Bruce's heart was buried at Melrose Abbey in the Borders region of Scotland.)
A memorial brass plaque was added to Dunfermline Abbey in 1889. The Latin inscription translates to: The tomb of Robert the Bruce, King of Scots, fortunately discovered among the ruins in 1818, has been anew marked by this brass in the 560th year after his death.
Next page: Fountains Abbey
Also on Mostly Medieval:
Downloads

Backgrounds, letters, avatars and more for websites, blogs, and newsletters. Desktop wallpapers for personal use.
In the Downloads section.

Travels in the UK

Travelogue of a journey through northern England and Southern Scotland. Visits to castles, cathedrals, ruins and more.
In the Travels in the UK section.

The Merkat Cross

Books for all ages, movies, costumes for Halloween and Ren Faire, music and more – all related to the Middle Ages.
In the The Merkat Cross section.