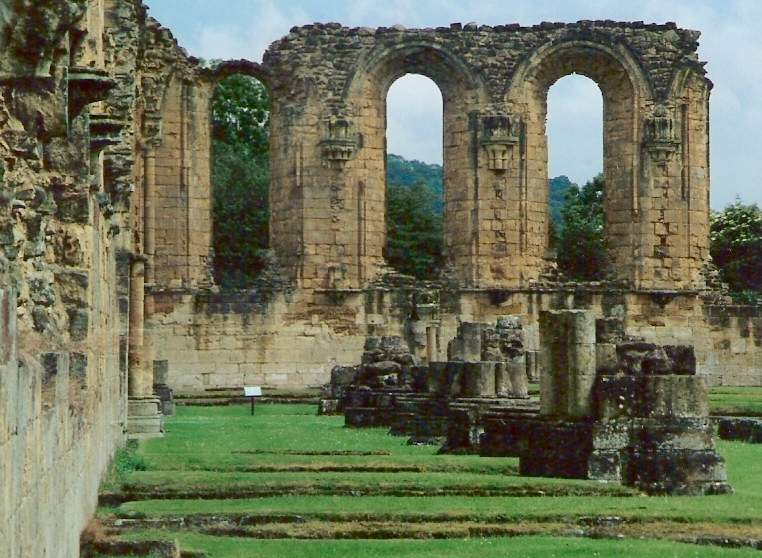 Byland Abbey
Yorkshire, England
Byland Abbey was regarded in its heyday as one of the three great monasteries of northern England, alongside Rievaulx Abbey and Fountains Abbey. Starting as a monastery of the reforming order of Savignac, and founded from Furness Abbey in Cumbria, it was absorbed into the larger Cistercian order in 1147.
When the monastery was at its peak in 1231, it was mandated that the number of choir monks should not exceed eighty, and that no more lay brothers be recruited until their number had fallen below one hundred sixty. As with most abbeys, the later years of Byland saw a reduction in the number of monks, with a small number using buildings that had been designed for hundreds.
In 1322, during the era of the Scottish war of independence, when the army of King Edward II was surprised and defeated by an invading Scottish force at nearby Shaws Moor, the abbey was pillaged by the Scots. During the reformation of the mid-sixteenth century there were only twenty six occupants, who surrendered the buildings and all the abbey's property to Henry VIII's commissioners. After the monks left, the buildings were stripped of all saleable items.
View more images of Byland Abbey at Travels in the UK: Byland Abbey Photo Gallery.
Next page: Culross Abbey
Also on Mostly Medieval:
Downloads

Backgrounds, letters, avatars and more for websites, blogs, and newsletters. Desktop wallpapers for personal use.
In the Downloads section.

Travels in the UK

Travelogue of a journey through northern England and Southern Scotland. Visits to castles, cathedrals, ruins and more.
In the Travels in the UK section.

The Merkat Cross

Books for all ages, movies, costumes for Halloween and Ren Faire, music and more – all related to the Middle Ages.
In the The Merkat Cross section.